This site is dedicated to the fascinating hobby of Antique Fishing Lures and Fishing Tackle collecting and preservation.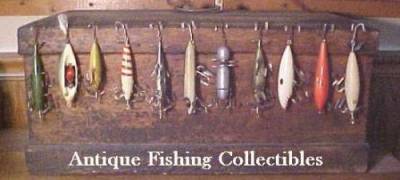 Member of the N.F.L.C.C. National Fishing Lure Collectors Club.
I am always buying Antique Fishing Lures and Boxes from companies such as Heddon, Pflueger, Creek Chub, South Bend, Shakespeare, Moonlight, Keeling, and a multitude of other smaller miscellaneous old lure companies.
I am always looking to add to my collection of old fishing tackle and would be very interested in purchasing anything from a single old fishing lure or box, to an entire collection. Also of interest to me are early fishing reels, fishing rods, ice fishing decoys, catalogs, paperwork, advertising, and just about anything else pertaining to vintage fishing tackle.

I am very interested in buying your old fishing lures, fishing lure boxes, fishing reels, fishing reel boxes, or any other items that are also related to early American fishing history. I am always buying, and always very interested to hear what you may have to offer.

If you have old tackle that you would like to discuss, please email pictures to me at the email address below. If you call me by phone, I will still need to see pictures, so please try to email me pictures first. A picture tells a thousand words.
Click on the "Gallery" links at the top of this page to see many examples of antique fishing lures and old fishing reels that I like to collect.